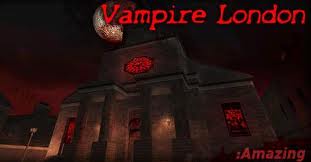 The citizens of London are completely immersed in fear, for the streets of London are prowled with the forces of darkness - vampires! The SA teams have dispatched reinforcements to eradicate the bloodthirst vampires and put an end to the disastrous chaos. However, things turned out to be more complicated than they thought it would be...
Every start of the round, vampire hosts will be randomly chosen (depend on the number of players in the room, 1-9: 1 host, 10-16: 2 hosts). There are various camping/hiding spots in the map, commonly known as "Tower - A site", "Bus - B site" and "Ladder - C site". The hosts are given 5000 hp as a start (6000 hp for Josephine host) and infected vampires acquire 2000 hp upon respawning (3000hp for Josephone vampires). The vampires have their own special skills:
Blood-sucking: for every human infected by a vampire. That vampire will gain 1000hp to its maximum hp attainable.
Recycling: vampires idling after 3 seconds will regain 500 hp for each second afterwards. Stil regains HP if a vampire is shot, hence there is no other way to kill a vampire by rifles alone (given certain circumstances).
Flood (Frenzy in NA version): Pressing E button will enable the vampire to speed up anf increase jumping distance and damage caused as well. There is a cooldown timing of 12-13 seconds.
Note that the vampire can still respawning after being killed by normal weapons (including TRG 21 V.H., Ak 47 V.H.).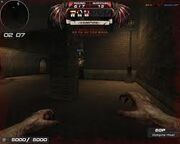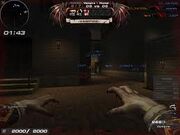 Left: Normal Vampire with intial amount of 2000 HP
Right: Host Vampire with different skin interface and a boosted HP of 8000.
Given the difference in outlooks, however both vampires have the same power and speed. Another difference is vampire hosts can attack using right click - 2 hand claws.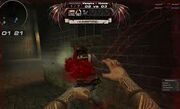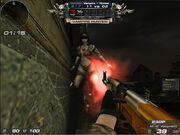 Left: Normal Josephine attacking a player
Right: Host Josephine killing a player.
Both types of Josephine have their own special weapon: Blood Bomb by right clicking which upon hitting a hunter(s) in the range of the bomb, their guns are dropped in the direction they are facing. Extremely useful at times.